Gym design should be beautiful and take your breath away, but it should also be well-executed and budget-conscious with an attention to detail you never dreamt possible.
Happiness is the newest trend dominating fitness design, and creating spaces to envelop a dimension of joy, to fill the senses with well-being, and to let nature be the backdrop for gratification is what discriminating club owners are craving in 2023.
Fitness architecture is storytelling, and your facility can tell memorable stories by incorporating a mix of materials, influences and a touch of the unexpected. The tiniest of details are often the most important, and while most cannot put their finger on "why" they feel good inside your club, an awful lot of thought goes into the planning of subliminal design…you cannot see it, but you can feel it.
There are multiple reasons why gyms that were once full are now half-empty. Sometimes the problem is obvious — the facility is dirty, the equipment is broken, or the management is inconsistent. But it could be that the space sends negative vibes. With so many fitness options, people don't have to spend their time and money in a gym that leaves them frustrated or mentally fatigued.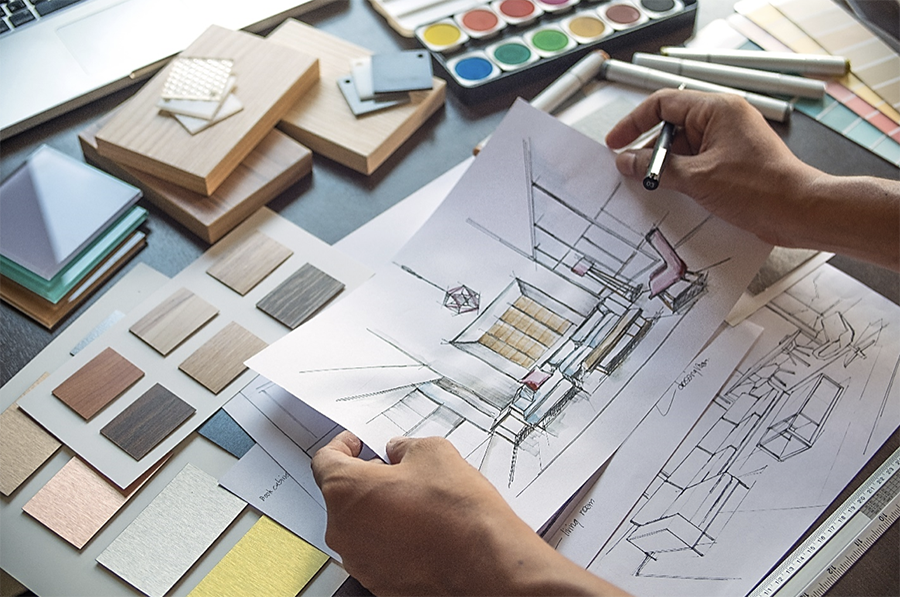 What is the future for inspiring gym design?
We know what's coming because we create what's trending. And your story is at the center of everything we do.
1. Beautiful fitness design starts with the brand's identity. Club owners often think alike, and they are too close to themselves to be objective. The result is a fitness business functioning at a fraction of its capacity. Avoid using the same words, colors, materials, and promises as your competitors while trying to convince the world how unique you are. 
2. Avoid supersized graphics depicting stereotypes. While stock photo models are often used in corporate branding decks, it's time to say goodbye to images of people plastered on walls to fill space.
3. Mix natural and high-tech materials. Teak is an expressive wood whose high value is equally matched by its moisture and sweat-resistant properties. 
4. Organized, uncluttered, and clean. Include well-designed storage solutions for equipment/props used in group fitness classes to create a perception of luxury.
5. A palette of natural materials, grey tones, and white-painted brick walls imparts a sense of simplicity and calm. Consider a solid wood communal table rather than chairs or a desk. 
6. Price and value are two different things. If there is no value, people won't continue coming…even for free. Discover what adds value to your gym: Speed and efficiency, thoughtful design, and getting more than expected.
7. Trying too hard to be edgy can cheapen the experience, and a copycat approach to design rarely stays relevant over time.
8. Adding a walk-up or drive-through window may be simple for gyms equipped with a nutrition bar offering smoothies and pre-prepared small bites. A solution for "lunchtime crunchtime" and provides a service to non-members who may one day join.
9. Recovery spaces should be an invitation to enjoy the tranquility of indulging in the luxury of dedicating time to ourselves. Create a refuge to by harnessing the power of illumination, textures, color, and stimulating soundscapes.
10. Childcare with fitness equipment and movement classes for the little ones is a selling point for many parents as childhood obesity is on the rise. Pay attention to this space and include Youth Fitness Equipment from Action Based Learning.
11. Smaller, more experienced-based indoor cycling studios with 20 bikes rather than 40. Larger, more intimate yoga/movement studios with sprung wood floors and storage systems for mats, blocks, bolsters, and props.
12. Brand Refresh: Club owners often outgrow their logo, and like a tattoo, what you thought was cool at age 16 may look foolish at 50. If your merchandise is not flying off the shelf, it's time for brand intervention before architecture and design begin. Just because you like the logo doesn't mean that your members will.
13. Fitness facilities must comply with the Americans with Disabilities Act (ADA) to avoid lawsuits. Momentum in the adaptive athlete space is increasing, and social pressure will be pushing club owners to include non-abled bodies in group fitness classes. There are many online resources for understanding ADA compliance.
14. Honor the location and look at history and culture. Gym design should connect to create a nostalgic sort of energy rarely found in fitness facilities.
Designed to perform, we create clubs that are as bold and vibrant as the people who train in them. Curious to know more? Contact: info@barbarachanceydesign.com
Barbara Chancey Design Group offers a full range of services for gyms, boutique studios, health clubs, and wellness projects across the globe.