When tourists visit a new country, they usually explore restaurants, museums, and the vibrant night life to create unforgettable memories. But discovering fitness studios who are setting a new aesthetic benchmark in wellness architecture is what fuels my quest for travel.
New gyms and boutiques are popping up all over the world right now, proving just how resilient the health and wellness industry really is and a sure sign that life as we knew it is returning.
Here are six extraordinary fitness destinations to shake up your sweat game if you and your gym bag are passing through.
One Hot Yoga – Melbourne, Australia
YOGA STUDIO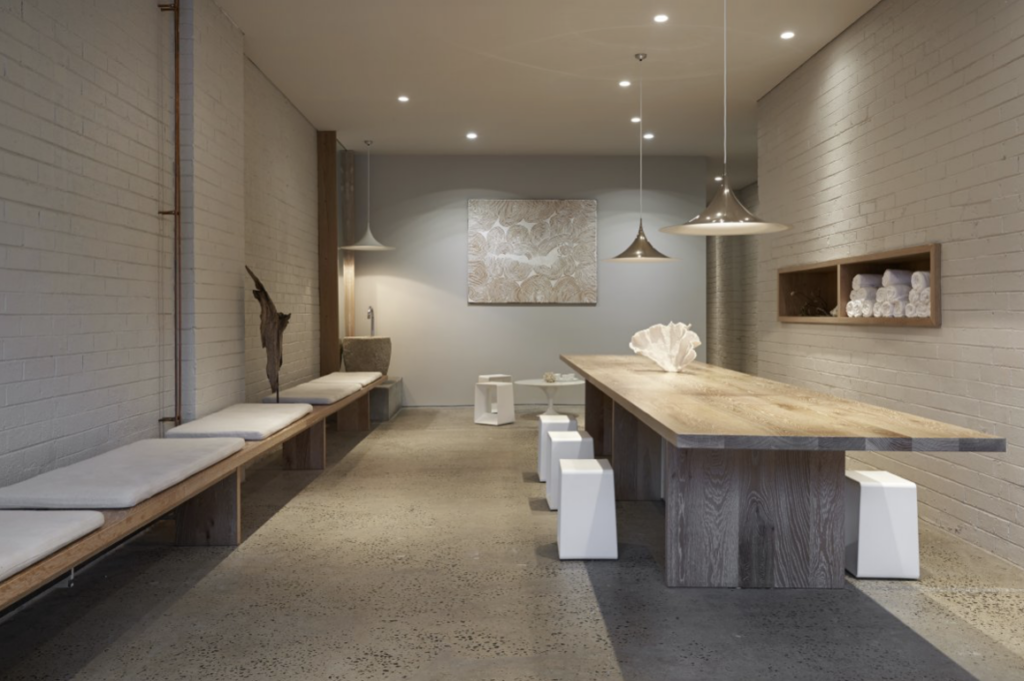 The palette of natural materials, gray tones, polished concrete floors and white painted brick walls imparts a sense of simplicity and calm. The solid oak communal table connects with the yoga community, and this generous, tactile space delivers a purpose-built space full of care and quality.
For more information, visit: www.onehotyoga.com.au
Shine X – Brunei
HIIT STUDIO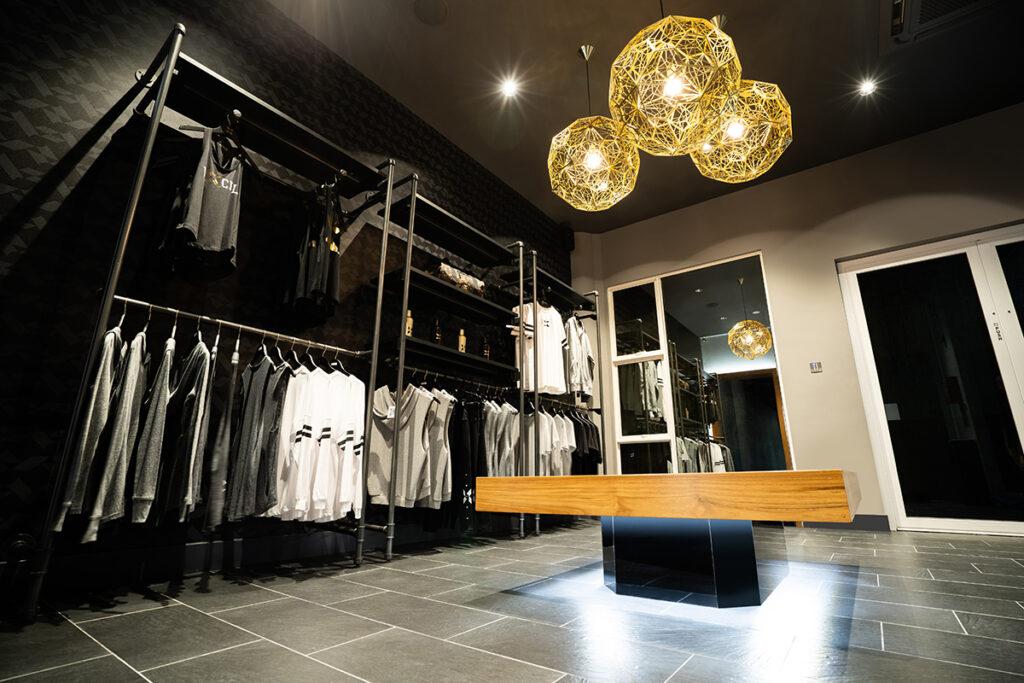 Douglas Frey, FREY Architects/Barbara Chancey Design Group
Brunei is a tiny nation of only 400,000 citizens on the remote island of Borneo, which this city-state shares with Malaysia and Indonesia. Inspired by the architectural opulence of southeast Asia, sustainability was a significant consideration in the design of Shine X, Brunei's first "bootcamp" fitness studio. Reclaimed wood indigenous to the Bornean rainforest and laser-cut acoustic baffles made from recycled materials are just a few of the eco-friendly features of this award-winning "gem" nestled away in the south China sea.
For more information, visit: www.shine-xbn.com
La Taule Training Centre – Waterloo, Canada
FITNESS STUDIO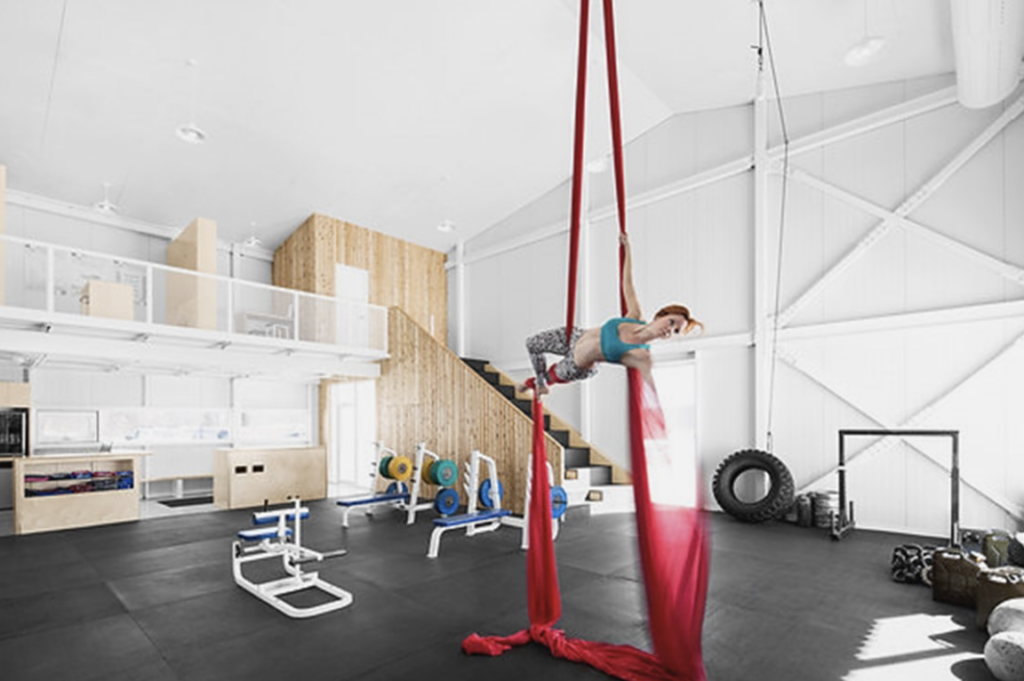 La Taule embodies the vision of a former Olympic athlete from Waterloo, and every element of the project was conceived for those who use the training facility: from the mezzanine's structure that supports the horizontal bars, to the dual function staircase that can also be used for training. The roof was structurally designed to support gymnasts' rings and aerial yoga silks, allowing athletes to hang 25 feet in the air.
For more information, visit: www.lataule.com
Tight – Dallas, TX
LAGREE STUDIO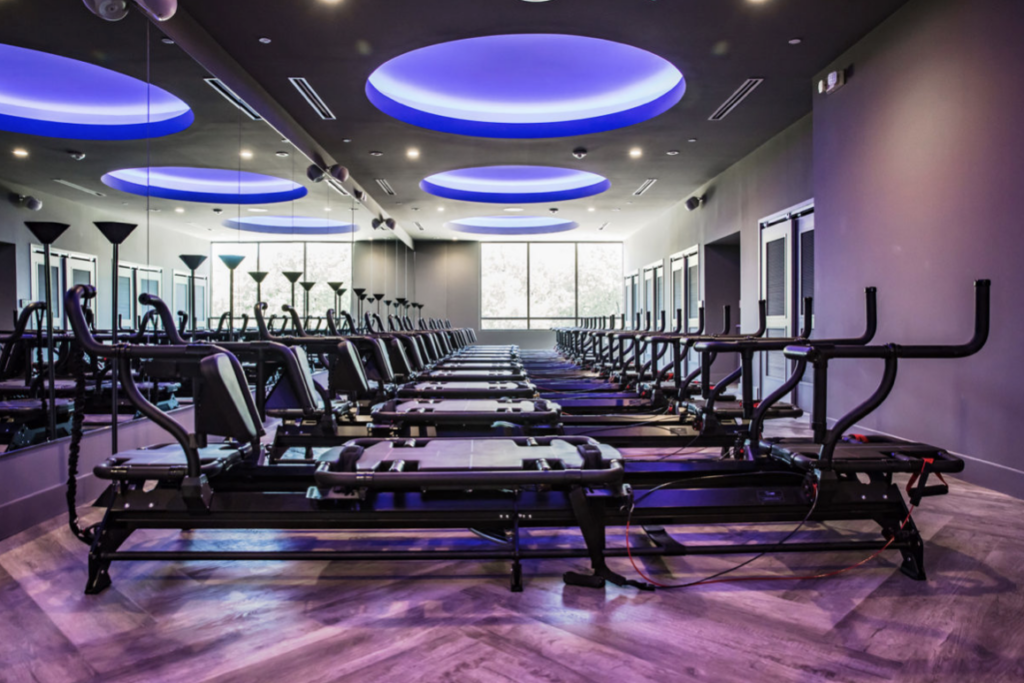 Douglas Frey, FREY Architects/Barbara Chancey Design Group
The name alone is provocative, and this glamourous Lagree (sort of like Pilates on steroids) studio is tucked away in an upper-level loft across from the campus of Southern Methodist University (SMU). To accommodate the schedule of busy students, Tight offers classes at night (Get Tight at Night) and features a slow motion, "lava lamp" illumination system that provides onlookers an ever-changing nightscape cascading through windows overlooking the street below.
For more information, visit: www.tightdallas.com
S10 Training and Recovery – New York City
FITNESS STUDIO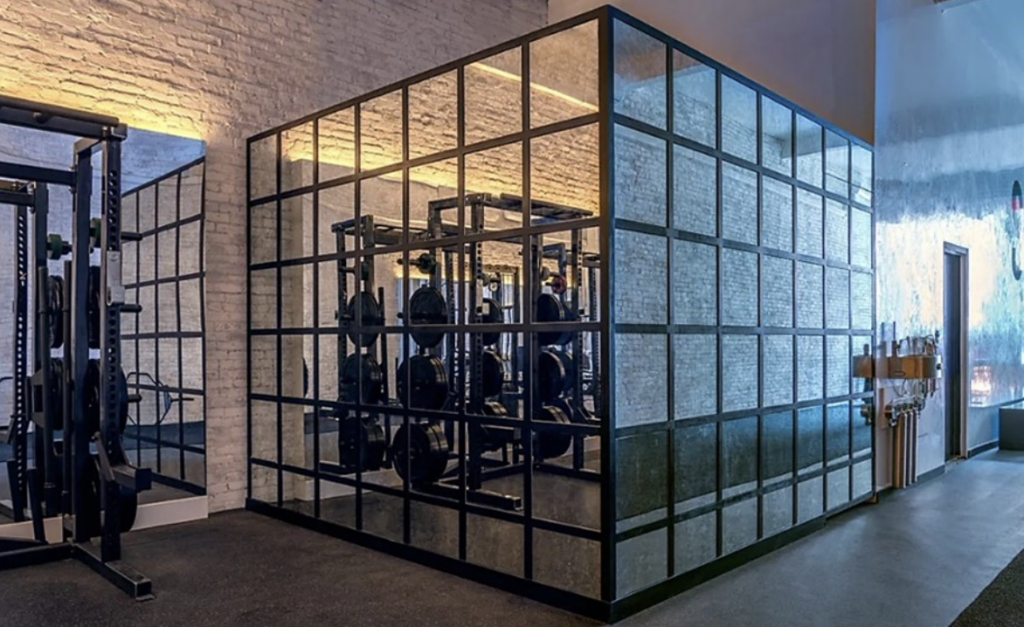 Samuel Amoia Architecture/Buro Koray Duma Architecture
Without a hint of signage, passersby are unaware of the fitness oasis hidden behind the blue-tinted windows of this design-minded, "non-gym" located on the ground and basement level of an old manufacturing building in downtown NYC. S10 stands for "sub-10 percent," the level of body fat that founder Stephen Cheuk encourages male clients to attain for optimal health and body composition. Members enter through a discreet door and are greeted by lime-washed brick walls on one side and polished Venetian plaster on the other. S10 is a visual masterpiece offering personal training and a luxurious recovery spa with flotation, infrared sauna, and skin treatments.
For more information, visit: www.s10training.com
Ryde – Camana Bay, Grand Cayman
INDOOR CYCLING STUDIO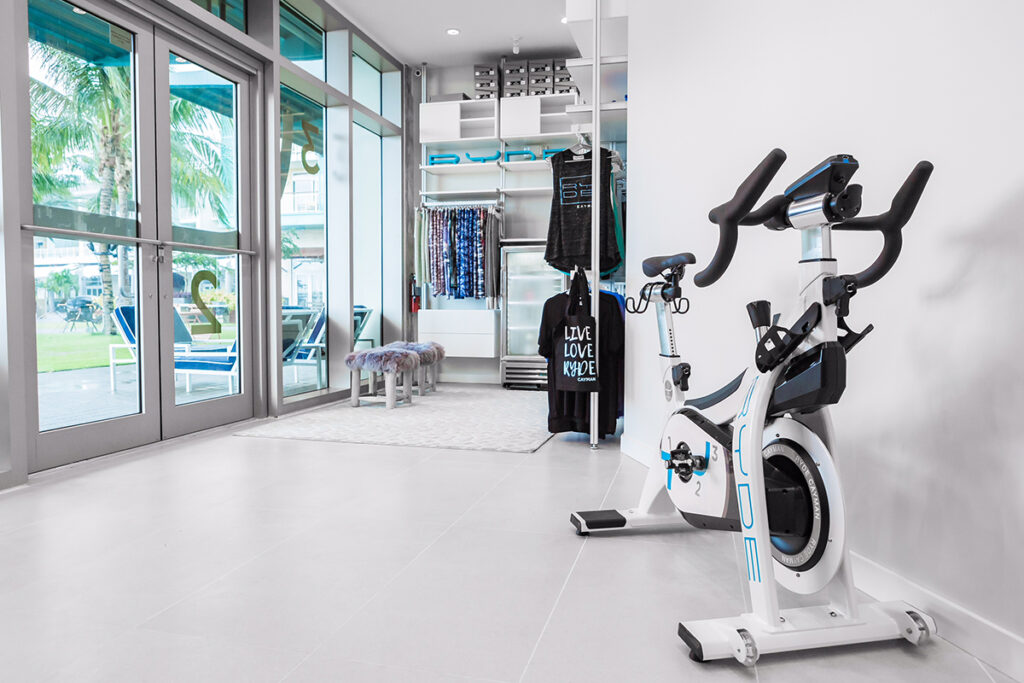 Douglas Frey, FREY Architects/Barbara Chancey Design Group
The irresistible combination of sunshine, beaches, and the philanthropic mindset of Ryde's owners make this fitness boutique a landmark in the Caribbean. The indoor cycling studio features captivating light shows hidden behind a two-way mirror to create high drama and euphoric energy. But Ryde's annual Ryde-A-Thon fundraiser is the real showstopper, and this 24-hour event raises over $100,000 each year for Cayman's nonprofit organizations. Now that's enough to give you a shot of dopamine before you ever hit the saddle.
For more information, visit: www.rydecayman.com